Your Legacy Partnership


Your principle residence is, in many cases, the largest single investment you have made.
As a seller, you deserve to have your Real Estate firm and agent totally committed to getting your property sold.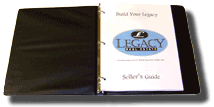 A Realtor® is a professional who subscribes to a strict Code of Ethics as a member of the local, state and national associations of Realtors®.
As a member of the local association, Realtors® belong to a Multiple Listing Service (MLS), which allows Realtors®to show any property listed through MLS. This will allow the greatest exposure for your home.
Your process in selecting a Realtor® to assist you should include:
Asking friends, relatives, co-workers and acquaintances for a reference.
Seeking references from sellers who were pleased with the professionalism of an agent are reliable sources.
Considering the company's and agent's reputation.
Conducting a Realtor® interview, you should feel comfortable with whomever you choose.
Selling your home should be a positive experience which allows you to make informed decisions that lead to the sale of your home.
Determining Value
Your Legacy Real Estate agent will provide you with a Comparative Market Analysis (CMA). Although not an appraisal, this analysis shows similar properties that have recently sold and the terms of the sale. It also shows properties currently on the market that your home will be competing against. Your Legacy Real Estate agent will review and discuss with you each comparable sold listing and consider its features, the sold date, and terms and conditions of the sale.
Contact us for our FREE CMA and a Legacy Real Estate agent will explain all of the details of determining the value of your home.
Real Estate Marketing Plan
The marketing plan for your home is essential to getting your property sold for the best terms, in the shortest time and with the least amount of inconvenience to you and your family.
Your Legacy Real Estate agent has a plan and can tell you exactly what steps will be taken to secure a prospective buyer for your property and a successful closing.
Contact a Legacy Real Estate agent to discuss the marketing plan for your home.
Legacy Seller's Guide
Legacy Real Estate Sellers Guide takes you step-by-step through the selling process. It begins with explanations of your listing agreement and agency representations, takes you through marketing plans, offer presentations and finally, the closing.
With sample forms and tips on preparing your home for prospective buyers, it is designed to educate you, the seller, so you can make informed decisions.
Simply give us a call and we will be happy to deliver a FREE copy of the Legacy Real Estate Seller's Guide to you.